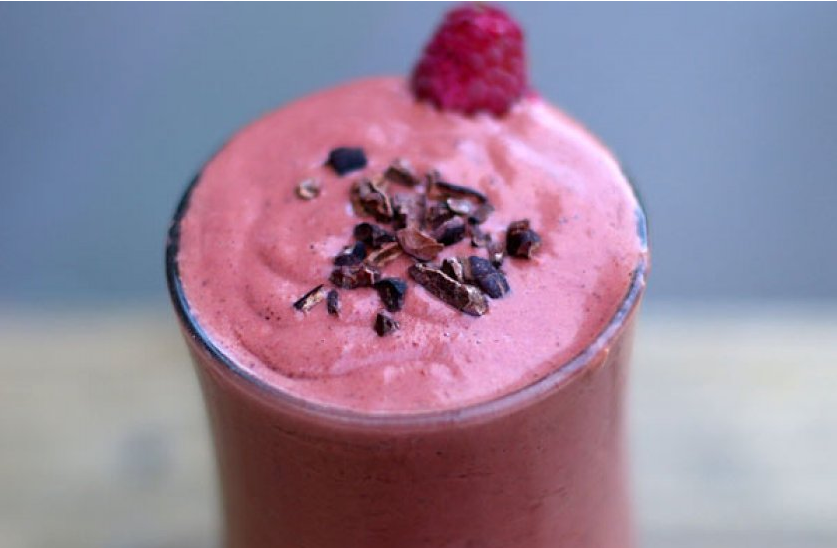 Raspberry, Cacao, and Maca Smoothie
Yoga promotes a healthy lifestyle, on and off the mat. If you have a regular yoga practice, you know that yoga boosts your energy a great deal. What are you doing off your mat? Try this delicious smoothie to feel great and boost your energy. It is essential to nourish your body with the right foods but we don't always know what those foods are.
Jessica Reidy, pushcart-nominated writer from New Hampshire shared with The Daily Meals the scope on the foods and the combinations of foods that give you the right nutrients to keep you going all day long: greens, berries, citrus, nuts, oats, honey, coconut milk, and bananas are her go-to ingredients.
This delicious smoothie will have you stepping out in the world with a boost of energy ready to take on your daily responsibilities with a smile.
Thanks Jessica! Jessica loves sharing healthy creations. Follow her on Twitter @JSReidy
Ingredients
½ cup frozen raspberries

1 cup baby spinach

1 tablespoon raw cacao nibs or powder

¼ cup cashews

2 cups apple juice

1 teaspoon raw maca powder

1 teaspoon vanilla

1 teaspoon lucuma powder

½ teaspoon cinnamon
Directions
Add all ingredients to blender and blend till smooth. This smoothie tastes like a dessert but energizes like a balanced breakfast.