Kelly Pearson is not only an amazing mom and attorney but also a Yogi. Kelly started her yoga journey during the YIY 30 Day Healthy You Challenge. Kelly's humor and dedication made her stand out throughout the challenge, and she completed it with pride as a healthy, well-balanced Yogi. New to yoga, she took her wellness serious, followed her doctor's instructions, followed her meal plans, and overcame her, "I'm too old," fears on her yoga mat.
The same dedication goes out to her children and work. Once she found her place on her mat, she invited her family and colleagues to join her. Kelly and her, now 10-year-old, daughter is committed to their practice. Each week, Kelly amazes herself and teachers on her mat.  She is an inspiring student and a beautiful soul.
We are honored to name Kelly this month's Yogi Inspiration! In celebration of her great spirit and dedication, we hope she inspires other yogis to let go, have fun, and JUST DO IT!  "Age isn't how old you are but how old you feel"  ~Gabriel Garcia Marquez.
Read our interview below to discover more of our Inspiring Yogi. 
YIY: What motivates you to continue practicing?
Kelly: I feel welcome and not intimidated at Your Inner Yogi. I am overweight and not very fit (yet), and at this studio, there is encouragement, not judgment. I feel more fit; I manage my stress better. My 10-year-old daughter does the community class with me, so I get to spend time with her too.  
YIY: What is your favorite type(class style) of Yoga and why?
Kelly: Community Yoga with Jessica! She is awesome: her class is perfect for any age, fitness level, size or gender. 
YIY:  Considering what you may have learned on your mat in your yoga classes, how have you been able to live yoga off your mat?
Kelly: Yes! I use the breathing techniques when I am nervous or stressed.
YIY: How many times a week do you practice?
Kelly: I practice 2-3 times a week, at the studio and/or at home.
YIY:  If you could describe your yoga journey in three words, what three words would you use and why?
Kelly: Terrified. Amazed. Grateful. 
1) terrified-you don't see people of my age and shape doing this
2) amazed-that I showed up and didn't embarrass myself 
3) grateful-to never be too old, or scared to learn and grow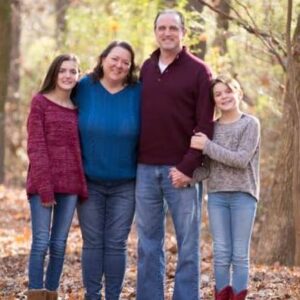 Yogis, please send Kelly a Namaste. Share her story, and ask any question you have below. We have a small growing community that we are honored to share. We now offer classes 7 days a week. Encourage a family member, friend, and/or  a co-worker(s) to join you in your next class. Schedule: http://yourinneryogi.com/class-schedule/