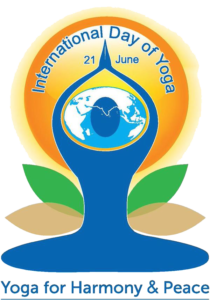 This week not only marks the official first day of summer – it also marks International Day of Yoga! It's no coincidence that the United Nations chose June 21st to celebrate this ancient practice. When addressing the U.N. General Assembly in 2014 and making the case for the observance, Indian Prime Minster Narendra Modi said that "the date is the longest day of the year and has special significance in many parts of the world." It is believed that the first yogi encountered the Seven Sages on the day of the summer solstice. These sages helped to bring the science of yoga to other parts of the world, promoting the union of individual and universal consciousness through kindness and harmony between mind, body and spirit.
Wondering what you can do to celebrate International Day of Yoga and ring in the first day of summer? We've got you covered.
Practice Kindness
Ahimsa is the first of the yamas (guidelines of yoga). While "non-violence" is a common single word translation for this practice, it doesn't just mean deciding that you're going to abstain from ramming into the bumper of the car that just cut you off on I-40. Ahimsa is also synonymous with compassion toward self and others. Further translation: kindness.
On International Day of Yoga, Yoga Alliance is encouraging members of the worldwide community to perform an act of kindness and create a ripple effect of positive change. Small or big, anonymous or identified, just make a conscious decision to be a light in someone's life. And yes, there are personal benefits (since ahimsa is about others and self). Research shows that performing a weekly act of kindness can improve mood, promote connectedness and increase relationship satisfaction. Buy the person impatiently waiting behind you at the coffee shop a cup of joe, hold the door for a few people, donate or volunteer for your favorite local charity, or help someone in need. Be the change!
Practice a Yoga Mala
With the start of each season yogis around the world celebrate change by practicing 108 sun salutations (a Yoga Mala). This one-breath, one movement connection leads us into a moving meditation that can ignite our sense of personal power, strengthen our asana (posture) practice, and even promote restful sleep and healthy digestion. It's also a great way to connect with your community or build a home practice.
If you're hopping on your mat for a Yoga Mala, kindness exists there too! Take each pose at your own pace, honoring the mind-body connection you're establishing. You'll also set a positive example for the yogis around you, inviting them to be kind to themselves in their practice as well. Try to move past the negative thoughts that may pop up during the practice when you're drenched in sweat and forgetting why you came. Set an intention early on to motivate you throughout your practice. Be kind to yourself on the outside and inside, and that energy will be felt by others.
Check out this post for an overview of the postures and tips for your 108 Sun Salutations.
Connect with your Community
Yoga teaches us that all things are impermanent, and that all things and beings are connected. No matter what obstacles you're facing there is still much to be grateful for – and you don't have to search very far to find them.
Take a walk outside in your neighborhood or head to your favorite local park. Sip a glass of water or your favorite juice, soak in some vitamin D and marvel at the beauty around you. Meet new people! Take part in one of the many  free and donation-based events happening in the area. Lululemon Memphis is hosting a complementary class at Shelby Farms Park for International Day of Yoga.  Check out their Facebook page for more. And of course, classes at Your Inner Yogi are going to be free all day long!
Practicing What We Teach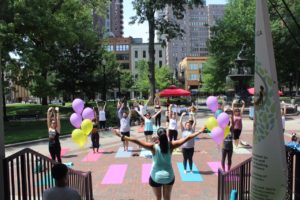 We're not just encouraging you to do something in honor of International Day of Yoga, we're walking the walk too. Last Saturday we held our first 108 Sun Salutations in Court Square Park to celebrate the summer solstice and practice karma (the yoga of action). Big shout-outs to the Memphis-area yogis that joined us on a beautiful breezy and balmy morning to raise more than $300 for the Streetdog Foundation, helping to provide rescued pups a bit of zen and balance. We had a great time getting sweaty, practicing mindfully and enjoying the company of our four-legged friends. Their upward-facing dogs were major ego-busters!
This month our teachers have and will continue to serve in our local community as well. We're excited to help young girls be "strong, smart and bold" by teaching a few classes at the Girls Inc. of Memphis summer camp. And we had a great time practicing with our fellow-Memphis yogis to raise funds for St. Jude Children's Research Hospital during Yoga Gives Memphis.
Last but not least, did we mention that classes at Your Inner Yogi are free all day long (June 21st)?!
Happy International Day of Yoga! We encourage you to make every day one of kindness, compassion, gratitude and giving.
Donations are still being accepted for Yoga for a Cause benefiting the Streetdog Foundation (visit bit.ly/YIYGive2StreetDogs) and Yoga Gives Memphis, benefiting St. Jude (click here). To donate to Girls Inc. of Memphis, visit www.girlsincmemphis.org/donate.  
About the Author
Caroline Miles teaches and blogs for Your Inner Yogi. A transplant to Memphis by way of the D.C.-metropolitan area (and New Orleans), Caroline enjoys Ashtanga Vinyasa, good beats and dry humor. Yoga is a large part of her journey to live–and help others live–an authentic life centered upon well-being.
References
(2015). About International Day of Yoga. Retrieved Jun. 18, 2017, from http://idayofyoga.org/index.php?route=information/information&information_id=4