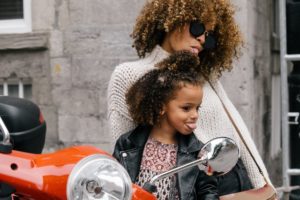 Hey moms. We know one day isn't nearly enough to honor your love, sacrifice and dedication, but we're really excited to share this Mother's Day with you since it's our first one together as a Your Inner Yogi family.
We also know that you're probably just hoping to spend time with your families and get a few moments of well-deserved peace and quiet. Or, as Scarymommy.com notes, "a few moments of peace and quiet, a sh*tload of mimosas and a few laughs." While we may not be able to help with the mimosas, we've gathered up a few tips to help you find peace and quiet, a few laughs and reconnect with yourself any day of the year.
When you need a laugh…
If you're headed to our Gentle and Playful flow this Sunday with your own mom, kudos for having a leg up on those of us still trying to figure out how to handle the "casual side-eye" when we offer the benefits of yoga to ours. If you can relate or just want to chuckle – since laughter ignites the production of hormones that help you balance mood and promote relaxation – check out 10 Funny Thoughts Your Mom Has About Your Yoga Obsession on YogiApproved.com. We also love these yoga memes; good for turning any hour into a happy hour.
When you need a reminder that your body is beautiful…
Between television, social media and magazines, we're bombarded with images that are bound to pinprick every insecurity we have about our bodies. Though we all want to look and feel our best, practicing acceptance can be difficult when we're reminded that a celebrity gave birth and had six-pack abs on the beach three weeks later. Or we fall prey to the accepted aesthetic of "what a yogi looks like." Fortunately, women are stepping up their game when it comes to post-baby body photos – and making them real. Check out some body-positive inspiration from moms who are celebrating change and embracing the "imperfections" when you need a reminder that you are and always will be beautiful (courtesy Refinery29):
When you need to NOT "go H.A.M." on your kids…
It would be nice to never have to repeat ourselves, raise our voices and debate how many "five more minutes" are left before it is absolutely time to get in the shower. But here we are in reality. Thankfully, we have a tool at our disposal that can help our kids be more aware in the present moment: mindfulness. And yes, mindfulness can be taught to children! If this isn't a tool you've introduced into your own toolkit, now is the time. Make it a family practice so that everyone can reap the benefits of living with intention. Just don't forget to have patience…it is a practice after all.
When you need to feel like you've done something for yourself today…
It is true that parenting is its own reward. But when we start thinking of basic self-care as a reward, we're already headed down a path of burnout and exhaustion. You deserve to treat yourself with as much love and kindness as you do your children! Build something accessible and meaningful into your daily routine, and make a commitment to yourself. It could be a simple practice that benefits your physical health, like oil pulling, or one that helps you stay emotionally grounded, like a short morning meditation—or both (hello asana practice!). Tending to our own needs makes us better moms, partners, friends and colleagues. If you need ideas, check out 45 Simple Self-Care Practices for Mind, Body and Soul from TinyBuddha.com.
When life doesn't always feel like a fairy tale…
Motherhood has a myriad of definitions, characteristics, highs and lows. We all deserve for our stories to be included in the narrative. Sharing them – and learning from experiences outside of our own – builds connection and community. This mom reminds us that when we encounter unexpected challenges, like postpartum depression, we're not alone nor are we broken. And this mom reminds us that Mother's Day isn't just reserved for those who have "had the opportunity to welcome their child into the world," or celebrate birthdays for that matter. As human beings – and moms – we all need to feel acknowledged and seen. We see you.
However you choose to celebrate, we hope you enjoy your Mother's Day! Remember to be kind to yourself every day of the year. And if you're in search of a last-minute gift for a mom in your life, feel free to share this post 🙂
About the author
Caroline Miles teaches and blogs for Your Inner Yogi. Read more of her bio here.