Jacqueline E. Oselen
Holistic Health Practitioner
Certified Yoga Teacher & Wellness Advocate
Jacqueline's foundation as a holistic health practitioner is grounded in the body's ability to heal itself.   As a light, healer and guide she believes that alignment of spirit, mind and body results in the "whole" being experiencing abundant living.   
She began her personal yoga experience in 2006 when she drifted into a morning class at the Mason YMCA in Memphis, TN.  Her twice weekly practice put her on an evolutionary path of self-discovery beyond what she would have ever imagined.  Jacqueline's yoga practice enhanced her spiritual disciplines of prayer, worship and faith and cultivated an awareness of her capacity to make powerful, life-affirming choices. This transformative journey fostered a burning desire to share the gift of yoga with others which lead her to explore teacher training options.  In September 2011, she completed a 200-hr teacher training with Yoga Alliance.   Through divine providence, Jacqueline began her teaching career the following month when she inherited her teacher/mentor's weekly class.  Becoming immersed in the culture of Caritas (latin – love of humankind) Village where the class was held shaped Jacqueline's value of inclusivity and non-judgement as a teacher and informed her intention to create a welcoming community that fosters acceptance, healing and support by "meeting on the mat" for a yoga practice. 
In response to her students' desire for stress relief and relaxation, Jacqueline focuses her teaching gift on restorative yoga as a gentle, therapeutic tool for neutralizing common stressors and countering the impact of trauma.  She is energized by gathering women for healing circles that cultivate self-care as a sacred ritual for enhancing quality of life and overall well-being.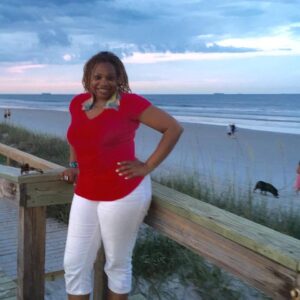 Jacqueline cultivates growth as a teacher through her personal practice of yoga & mindfulness practices and a commitment to life-long learning & connection to other teachers .  To enhance her scope as a holistic practitioner, she is currently pursuing a Master of Arts in Health & Wellness Coaching with a concentration in herbal studies. 
This mother of three sons Jeremy, Frederick and Joshua is an optimist, foodie, nature-lover, visionary and wine enthusiast.