Over 40 years of teaching Yoga with deep Love & Compassion
Fifty years of yoga both on and off the mat has resulted in good health and peace of mind for Pat. The characteristic of yoga that has influenced Fielder greatly was learning to calm and quiet her mind. Pat's joy has been teaching others this wonderful science of physical health and mental well-being.
Pat began taking yoga classes in 1966, and by 1972, she was taking instruction from Eve Diskin of the American Institute of Yoga to become a yoga teacher. Over the years she has taught yoga for the YMCA, given private lessons, and instructed groups of students suffering from Multiple Sclerosis. Pat taught Yoga for University of Memphis Continuing Education over several years and continues to be a yoga instructor at the University of Memphis School of Health Studies. She also teaches three days a week at the Unity Church of Practical Christianity. Pat's teachings focus on pranayama (breathing) techniques and Hatha yoga.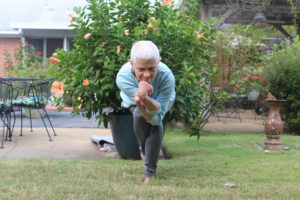 She has sought to live by the philosophy of yoga, sharing her practice with her family, children, grandchildren, and great grandchild.  Fielder is excited to join Libby and her team at Your Inner Yogi studio, facilitating other yoga disciples to inspire students to become effective yoga teachers.